XRP, the cryptocurrency tied to Ripple, found itself entangled in a familiar tussle with the $0.55 resistance level as bearish forces thwarted its early attempts at a rebound.
While last month's pivotal summary judgment offered a glimmer of regulatory clarity for XRP, the ongoing specter of the SEC appeal and an impending trial slated for the first half of 2024 are fostering an air of skepticism among the investor community.
Despite the much-needed legal clarity provided by the recent summary judgment, a cloud of uncertainty still hangs over XRP's trajectory. The forthcoming SEC appeal and the looming trial timeline have combined to cast doubt on the cryptocurrency's immediate future. The ripple effect of these uncertainties is palpable as investors remain cautious about diving back into the XRP market.
XRP Bearish Sentiment Prevails
Price analysis indicates that the prevailing bearish sentiment pervading the broader cryptocurrency market is acting as a significant impediment to XRP's upward breakout.
Santiment's Network Value to Transaction Volume (NVT) ratio, which gauges the relationship between a blockchain network's transactional activity and its recent price performance, reveals the extent to which bearish undercurrents are hampering XRP's ascent.

As of now, XRP's price hovers around $0.513, marking a decline of 2.8% over the last 24 hours. The past week has seen the cryptocurrency grappling with losses amounting to 1.6%, CoinGecko data shows.
The struggle to break through the $0.55 resistance level seems to mirror the broader market sentiment, reflecting the challenges that lie ahead.
A Glimmer Of Positivity
Coinalyze's data presents a somewhat brighter aspect. XRP's funding rates turned green on August 25, signifying an improved stance.
Moreover, the Open Interest (OI) rates, which indicate the total number of outstanding derivative contracts, have risen from approximately $340 million to surpass $360 million.
This increase could signal growing interest among traders and investors, adding a dash of optimism to the otherwise cautious outlook.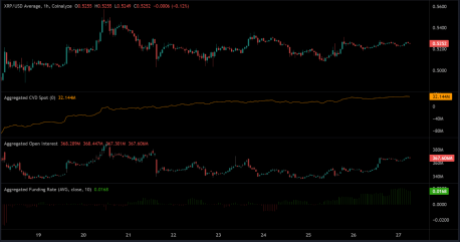 In addition, seasoned crypto investor Austin Hilton offers a contrarian view, suggesting that XRP is poised for a significant 20% breakout in the short term. Hilton points to various indicators and fundamental factors underpinning his projection.
Notably, his argument centers around a Tradingview indicator that tracks momentum shifts on the daily timeframe, helping traders determine optimal entry and exit points.
XRP's journey forward remains intricate, marked by legal battles, market sentiment, and technical indicators. As the cryptocurrency navigates these multifaceted challenges, investors and enthusiasts alike eagerly await the next chapter in XRP's tumultuous saga.
(This site's content should not be construed as investment advice. Investing involves risk. When you invest, your capital is subject to risk).
Featured image from LinkedIn