Bitcoin slumps on low trading volume. BNB risks testing 2022 lows. Akash Network surges after a hackathon. Conflux tumbles on China concerns.
BTC 
The price of Bitcoin was hit by selling last week with the world's largest cryptocurrency losing 12% of its value.
Investors liquidated US$1 billion in cryptocurrencies during the bearish selling, bringing the total market capitalization to the edge of the psychologically important US$1 trillion mark.
XRP led the losing coins after a U.S. judge granted the U.S. Securities and Exchange Commission (SEC) approval to file a motion to appeal the recent ruling for Ripple Labs regarding retail sales of XRP. Meanwhile, the Forkast 500 NFT index dropped but transactions continued to rise. The release of minutes from the Federal Reserve's July meeting continues to fuel concerns of more monetary tightening ahead, while the week ahead has the annual Jackson Hole meeting of central bankers.
Analyst Markus Thielen said:
Realized volatility had hit 18%; the last time volatility was this low, in November 2018, Bitcoin's 30-day realized volatility spiked to over 100% as prices crashed by 46%. In Bitcoin, sharp price declines have often followed low volatility periods. We are not predicting such a significant decline but expected, at least, a -13% decline.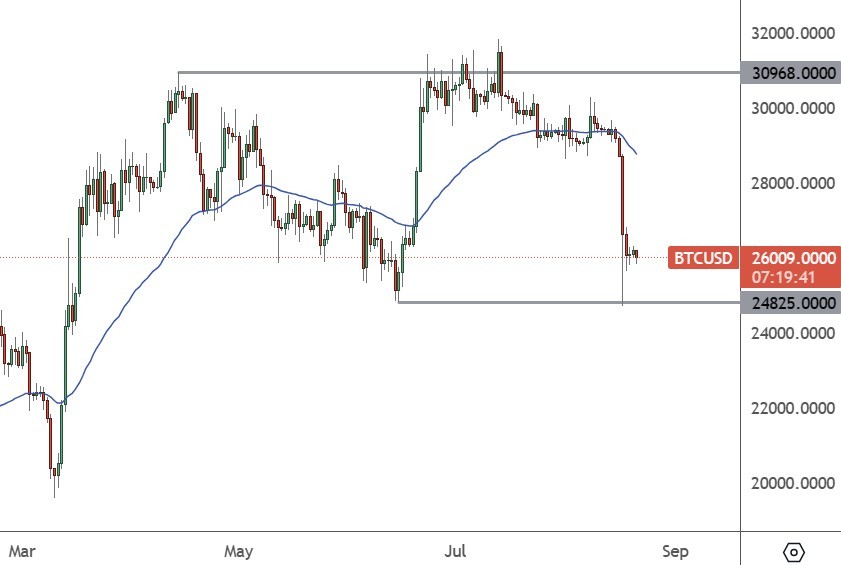 The price of BTC traded below $26k on Monday with lows at $24,825. The market has to hold this level or risk a sell-off to $20,000.
BNB
Binance Coin (BNB) fell 13% on the week and now trades at $208 with the coin dangerously close to its 2022 lows of $183.
The company filed for court protection against the SEC last week, alleging that the regulator is on a "fishing expedition" with extensive discovery demands. Binance said in a court document that it complies with a court directive from June.
However, the SEC has made "excessive" discovery demands, Binance said. Regulators are essentially asking for "every single document in Binance's possession related to customer assets," the filing states.
"BAM has worked in good faith, but the SEC has been steadfast in its belief that the Consent Order gives it carte blanche to investigate every aspect of BAM's asset custody practices without any discernible limitation whatsoever," the filing states.
The company is also seeking to limit the number of depositions in the case as it seeks to protect its CEO Changpeng Zhao and its CFO from providing testimony.
The move follows an effort from the world's largest crypto exchange to have a lawsuit from the Commodities and Futures Trading Commission thrown out. The company said that it is not a U.S. company and therefore the suit is unwarranted.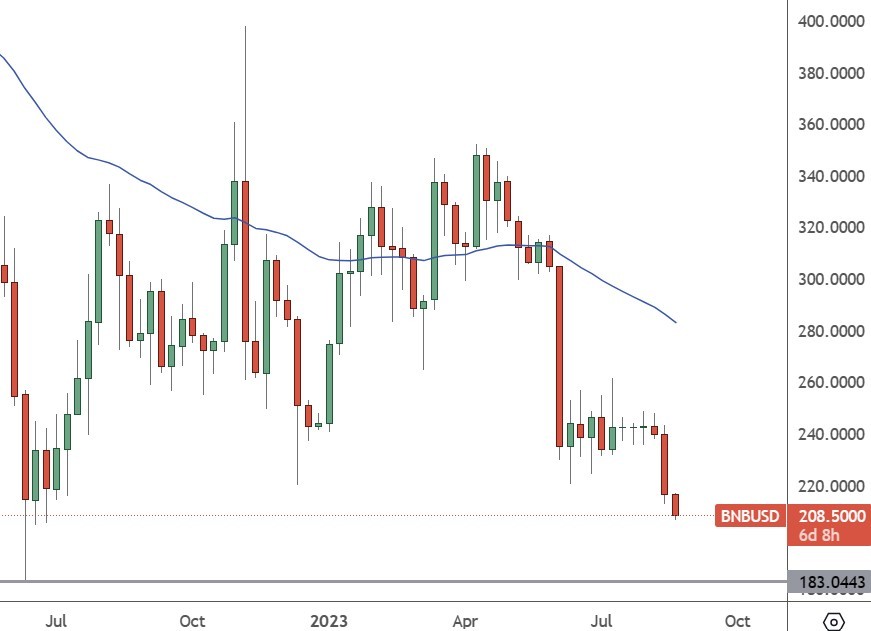 The price of Binance Coin could put pressure on the company if it breaches the 2022 lows. It was a sharp drop in the native token of FTX that brought the rival exchange down. Binance has been able to learn from that company's demise but a drop in the coin could affect the company's collateral.
Meanwhile, Binance appears to be working with Venus Protocol with An infamous wallet that borrowed over $150 million worth of stablecoins being liquidated for over $30 million. 
An attacker was able to steal $100 million in bnb tokens by exploiting a bridge on the BNB Chain. The coins were then deposited on the Venus lending protocol to borrow $150 million worth of stablecoins. Coin Desk speculated that the two projects were working to prevent a sharp sell-off in BNB.
AKT
A jump in the price of Akash Network (AKT) saw its coin up 20% for the week after a recent breakout. 
The coin's trading volume jumped to approximately $5.4 million, which represents 32% growth.
Akash Network is a relatively new protocol that is seeking to compete with big tech in cloud-related offerings. The protocol has been able to see strong growth in its ecosystem since its inception.
The project is open source and has published it Cloudmos code base for the public to view. Investors are taking advantage of recent lows in AKT to grab a potential contender in the decentralized cloud computing world.
Like other protocols such as Solana (SOL), Akash is targeting a large ecosystem growth initiative with a recent hackathon. The Akashathon opened up submissions until September, as it hopes to attract developers into its growing network.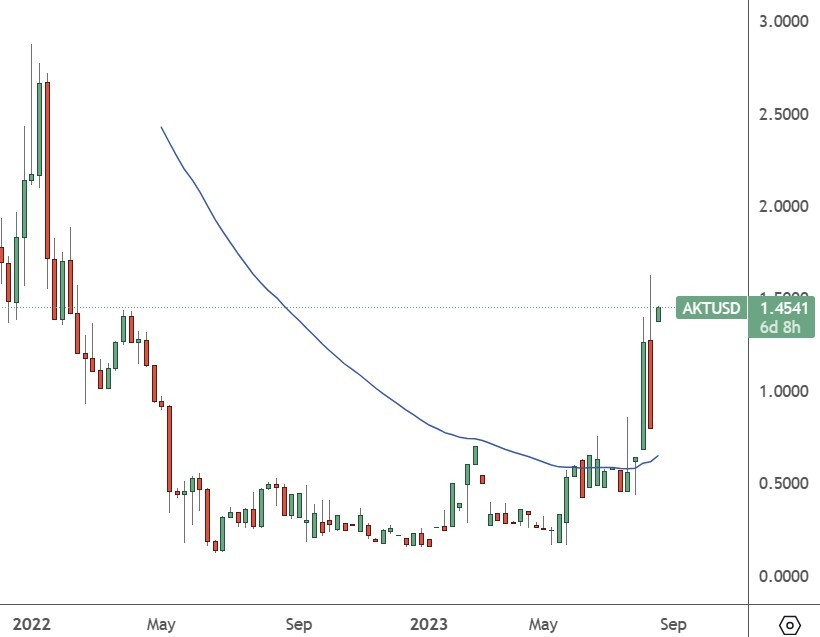 Akash Network saw its price jump to $1.53 with a potential near-term target of $2.75.
CFX
Conflux Network was the largest loser this week with a drop of -35%.
Conflux gained earlier in the year when it announced a partnership with China Telecom on a blockchain sim card (BSIM).
Dr. Ming Wu, CTO of Conflux Network said "The BSIM card significantly improves the user experience and lowers the barriers to entry for Web3 and the Metaverse world for users. It is key to allowing Conflux to take its ecosystem to the next level. Collaborating with such a strong partner like China Telecom and initiating it from Hong Kong will allow us to enter the market in the near future, both in China and globally."
The Chinese blockchain company is now struggling with the downturn in the economy and the recent problems with the property sector. Further stock turmoil could impact investment and the company's outlook.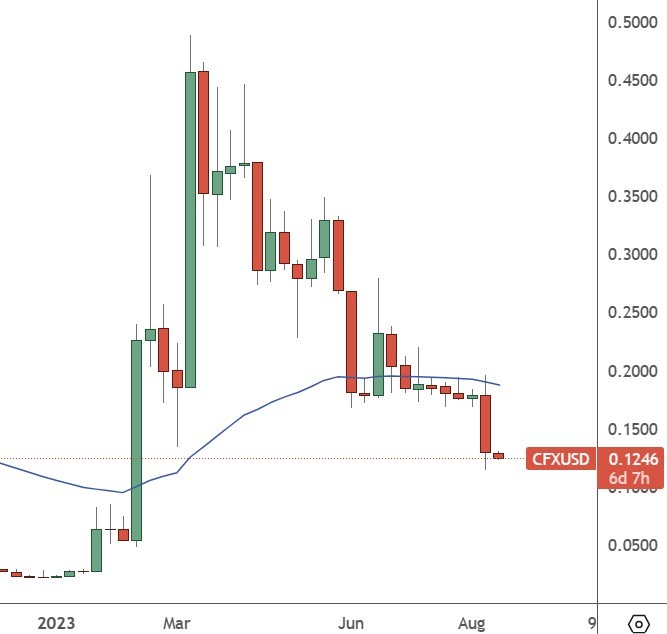 The price of Conflux trades at $0.1246 but is at risk of further lows from here.
Disclaimer: information contained herein is provided without considering your personal circumstances, therefore should not be construed as financial advice, investment recommendation or an offer of, or solicitation for, any transactions in cryptocurrencies.