The recent drop in the price of Cardano (ADA) has raised concerns among investors as it breached the combined support of $0.3 and a crucial support trendline. However, a closer analysis of the daily chart reveals a twist that might offer a glimmer of hope for the cryptocurrency's recovery.
Technical analysis of Cardano's price movement suggests that the apparent breakdown from the rising support trendline might be a fake one.
A fake breakdown, also known as a false breakdown or a bear trap, occurs when a price temporarily drops below a support level or trendline but quickly rebounds, trapping bearish traders who sold during the dip. 
This deceptive move often leads to a rapid reversal and upward momentum.
Cardano: Fake Breakdown Or True Bearish Signal? 
On the flip side, a decisive breakout from the overhead trendline could set the stage for a substantial 26% upswing in Cardano's price, as per recent price analysis. This would not only mark a significant price recovery but also instill renewed optimism among traders and investors.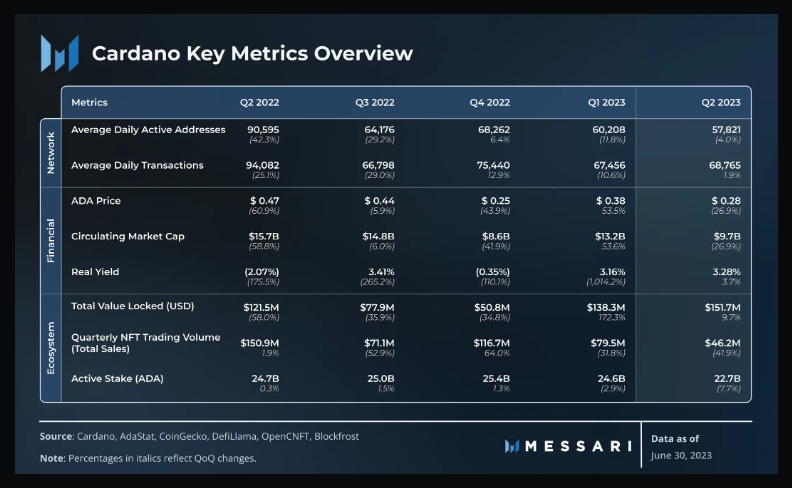 Providing insights into the current market dynamics, it's important to acknowledge the broader context surrounding Cardano's performance.
Despite the recent price turmoil, Cardano has demonstrated remarkable growth in terms of its total value locked (TVL). Crypto analytics firm Messari's latest report reveals that Cardano's TVL has surged by nearly 200% since the start of the year.
Quarter-over-quarter (QoQ), the TVL increased by 9.7%, and year-to-date (YTD), it soared by an impressive 198.6%.
This surge in TVL propelled Cardano from the 34th to the 21st position in terms of overall TVL among all blockchain networks. This remarkable feat underscores the growing adoption and utility of Cardano's ecosystem.
Setback Due To Regulatory Pressure 
However, the journey to this achievement has not been without its challenges. The report points out that Cardano's TVL experienced a dip in June, triggered by regulatory turbulence.
The US Securities and Exchange Commission (SEC) charged cryptocurrency exchange Coinbase for allegedly offering unregistered securities, with ADA being specifically mentioned in the lawsuit. This development led to a sell-off of ADA and resulted in liquidations on Cardano-based decentralized finance (DeFi) platforms.
ADA market cap currently at $10.4 billion in today's chart: TradingView.com
As of the latest data from CoinGecko, Cardano is currently trading at $0.299138. While the cryptocurrency has seen a 3.1% rally in the past 24 hours, it has also endured a 3.8% slump over the last seven days.
Cardano's recent price movement may appear bearish due to a seemingly significant breakdown from key supports. However, a careful analysis suggests the possibility of a fake breakdown, providing some ounce of optimism for a potential recovery. Amidst challenges, Cardano's impressive TVL growth reflects its resilience and adoption within the crypto ecosystem.
(This site's content should not be construed as investment advice. Investing involves risk. When you invest, your capital is subject to risk).
Featured image from Flickr