XRP loses 13% depsite positive court comments. BTC sees weekly outflows of $111m. PayPal launches a stablecoin. XDC rallies 13%.
XRP
Ripple XRP lost 13% despite favorable comments about its status as a security.
U.S. Judge Analisa Torres said that the sale of XRP tokens on exchanges and through algorithms does not constitute investment contracts, which was celebrated by XRP supporters. The news led to a sharp increase in many tokens. 
The ruling was a big development in the legal battle between Ripple and the Securities and Exchange Commission (SEC). The SEC alleged that Ripple engaged in unregistered sales of XRP, which it considers to be a security. The decision could also set a precedent for other cryptocurrency companies facing similar legal challenges.
XRP enthusiast John Deaton was hopeful but told investors to be cautious. He said that he did not base his expectations on the belief that XRP would reach a new all-time high after the ruling but he did anticipate the price of XRP to surpass the resistance level of $1.
He said, "It's all about expectations. Unless we were in a full bull market – led by Bitcoin – I never believed XRP would hit an ATH, even after a good ruling, and I said that when asked about my expectations on price (although I did expect it to break $1 tbh). But until Bitcoin breaks its ATH, I don't expect anything else to."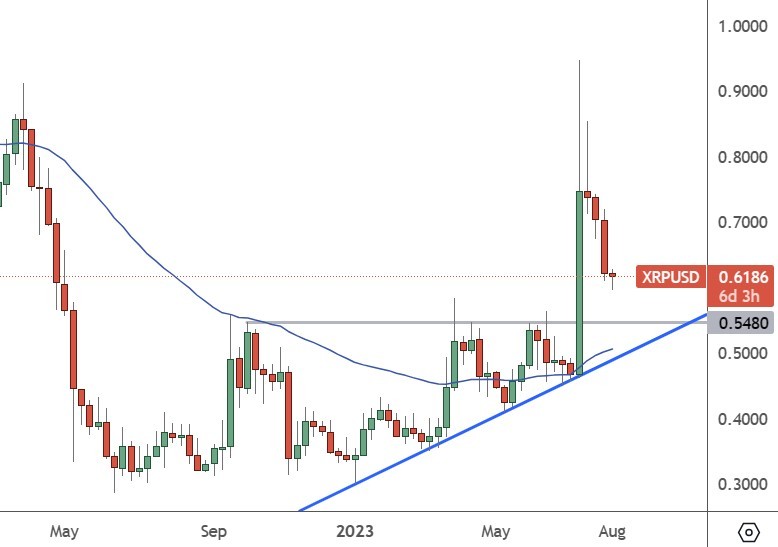 The price of XRP dropped on the week to trade around the $0.60 level.
PYPL
Payments giant PayPal announced the release of a new USD-backed stablecoin.
The platform, which has over 400 million users, said on Tuesday that it was launching PayPal USD. Previous attempts by mainstream corporations to launch stablecoins have met opposition from financial regulators and policymakers. Meta attempted to launch a Libra stablecoin but was blocked by regulators who feared it could upset the global financial system.
PayPal USD will be backed by U.S. dollar deposits and short-term U.S Treasuries and will be issued by Paxos. It will gradually be available to PayPal customers in the United States.
The token can be redeemed for U.S. dollars at any time and can also be used to buy and sell other cryptocurrencies PayPal offers on its platform, including bitcoin.
"PYUSD is the first of its kind, representing the next phase of U.S. dollars on the blockchain," Paxos posted on messaging platform X, formerly known as Twitter. " This is not just a milestone moment for Paxos & PayPal, but for the entire financial industry."
The largest stablecoin at present is Tether, which has a market cap of $83 billion. The price of tether was lower by 0.11% over the last week.
BTC
Bitcoin was also lower this week by 0.19% as the market awaits a decision by the SEC on Arc's application for a Bitcoin Exchange Traded Fund (ETF).
Weekly cryptocurrency asset flows for the week ending Aug. 4 reconciled at $107 million in outflows, continuing a three-week negative trend totaling $134.8 million.
Once again, the lion's share of movement was attributed to Bitcoin with $111 million in outflows, Bitcoin funds negated the majority of inflows for the week.
According to CoinShares' "Digital Asset Fund Flows" weekly report, it was another sign of "profit taking" following a sharp rally this year. For the month leading up to the recent spate of outflows, inflows of $742 million into crypto funds were seen, with 99% of that coming into Bitcoin.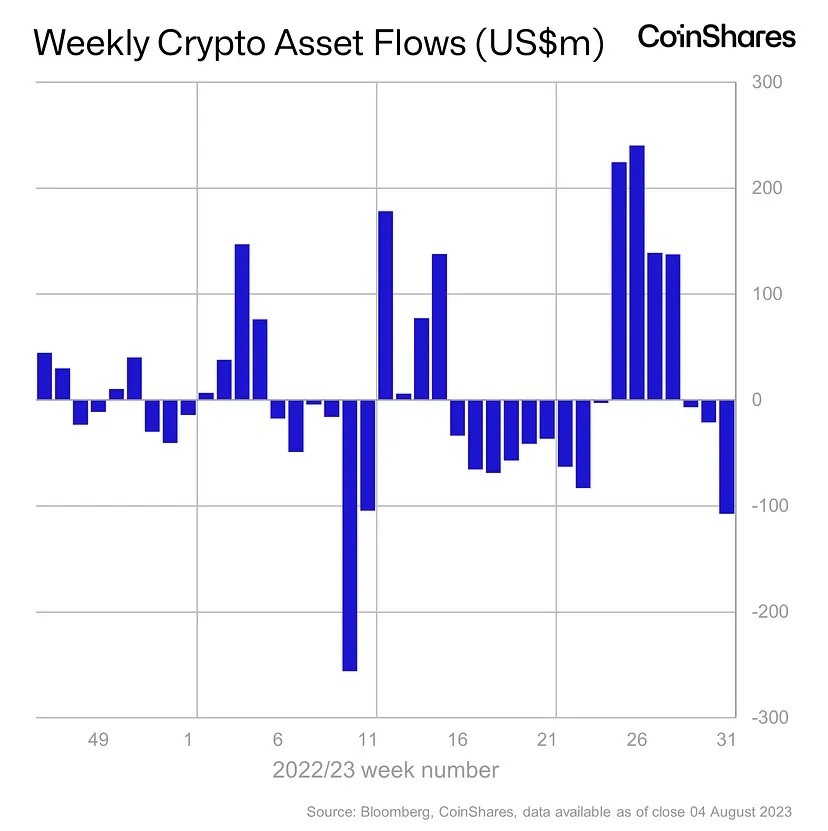 Weekly trading volumes in investment products saw a dip below the year-to-date average, according to the report, with broader on-exchange market volumes down 62% against the relative average.
Regionally, only Australia and the United States showed inflows, with $0.3 million and $0.2 million incoming, respectively. The largest regional outflows came from Canada, with $70.8 million, and Germany, with $28.5 million.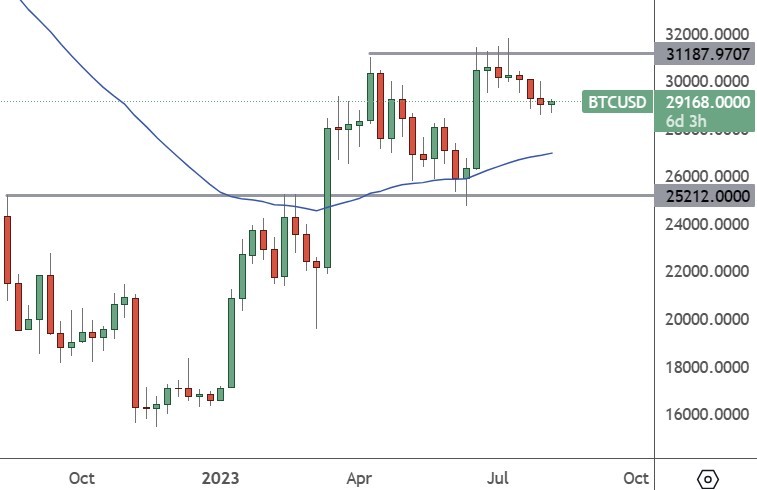 The price of Bitcoin has been hovering near the $29k level for almost a month.
XDC
XDC Network was the best-performing token, with a return of 13% for the week.
The token's price surge follows the blockchain project's partnership with Japan-based crypto trading company SBI VC Trade to sponsor the WebX 2023 event.
XDC Network, a crypto firm, revealed its Gold Sponsorship of a major Japanese event organized by Coin Post, a prominent crypto news outlet in East Asia.
The upcoming event presents XDC network users with a chance to explore exciting opportunities, discover cutting-edge innovations, and engage with industry leaders.
XDC Network, a hybrid blockchain built for global trade and finance, has integrated with the Infocomm Media Development Authority's (IMDA) TradeTrust, and launched an initiative to enable the creation and financing of Model Law on Electronic Trade Records (MLETR)-compliant digital trade documents.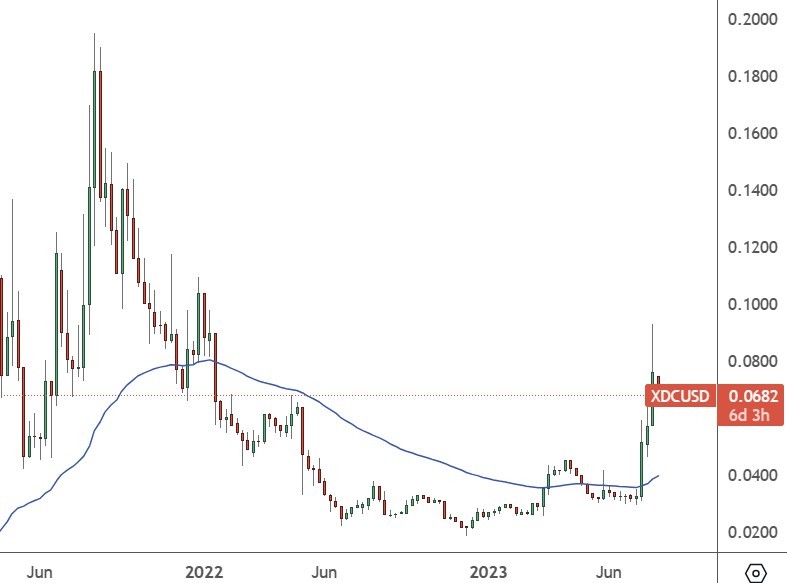 The price of XDC was trading at almost $0.07 on Monday after the week's gains.
Disclaimer: information contained herein is provided without considering your personal circumstances, therefore should not be construed as financial advice, investment recommendation or an offer of, or solicitation for, any transactions in cryptocurrencies.