Ethereum dislocates from BTC as Merge approaches. ADA was boosted by its own upgrade. ERG and RVN lead race for new miners.
ETH
Ethereum was 8% higher this week as the coin gets a boost from the upcoming Merge upgrade. Bitcoin was weaker with a -0.25% loss over the last seven days.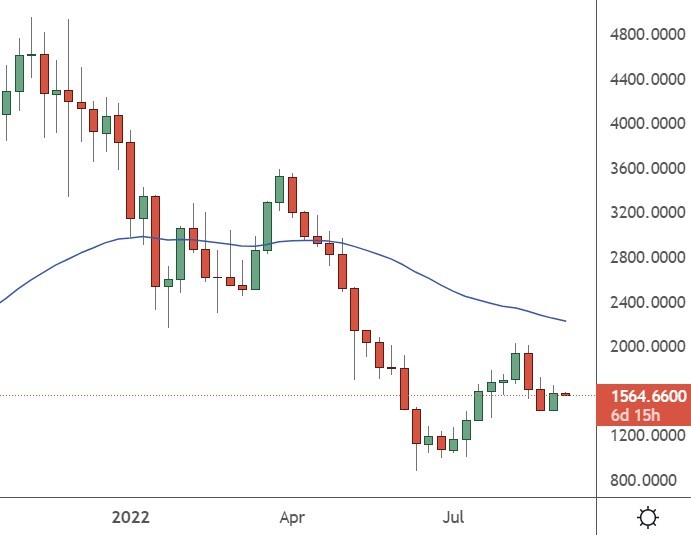 In a momentous move, ETH will switch from a Proof-of-Work (PoW) consensus to Proof-of-Stake (PoS). The upgrade has been years in development and will improve the speed, energy usage, and scalability of the blockchain.
However, Ethereum developers have said that gas fees will not be reduced:
Gas fees are a product of network demand relative to the network's capacity. The Merge deprecates the use of proof-of-work, transitioning to proof-of-stake for consensus, but does not significantly change any parameters that directly influence network capacity or throughput.
But the upgrade will reduce the energy consumption of Ethereum by 99.5%. That would avoid any potential problems with regulators and governments in the future if they clamp down on energy-intensive mining.
There were also some negative price developments, with funding rates on Ethereum futures turning negative. Ethereum has an all-time high "open position" of 4.21 million, with recent short positions pushing funding rates to -0.024%.
ETH was trading above the $1,500 level, and the next significant resistance is at $2,200.
ADA
Cardano was the best-performing coin of the majors, with a 12% rise as the coin nears its own update.
There is growing excitement amongst Cardano fans as the Vasil upgrade comes closer. The blockchain's hard fork upgrade is now scheduled to happen on its main network (mainnet) on Sept. 22, according to developers. 
ADA whale transactions were also showing a notable increase over the last two days with large investors showing interest in the coin leading up to the Vasil hard fork. Vasil is a major upgrade that will increase Cardano's scaling capabilities and reduce transaction costs. Originally scheduled for June, the upgrade saw multiple delays. But developers said in tweets on Friday that the upgrade had met its criteria of "the successful completion & extensive testing of all core components, plus confirmed community readiness."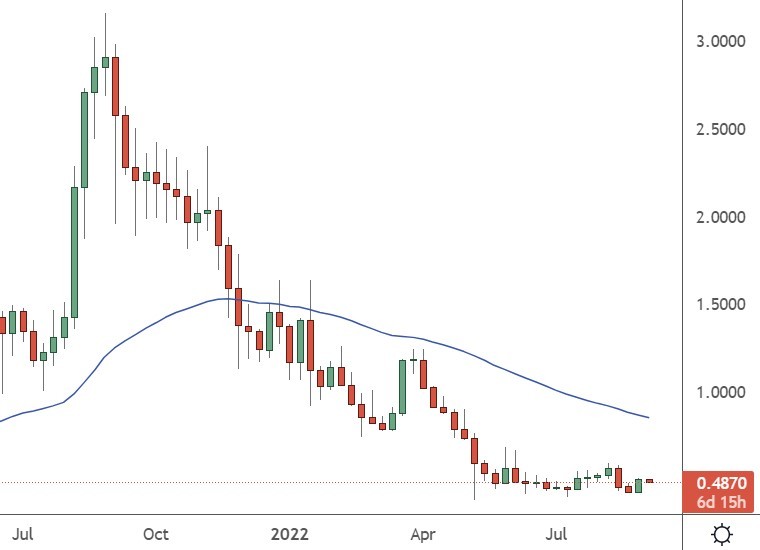 The price of ADA was trading just below the $0.50 level and could start a recovery toward the $1.00 mark.
MATIC
The price of Polygon's MATIC coin was also higher after U.S. brokerage firm Robinhood added the coin to its growing list of cryptocurrencies.
Robinhood announced on Wednesday that it had added support for MATIC deposits and withdrawals on the Polygon network. Clients will now have the opportunity to send and receive MATIC via the Polygon blockchain, and that could boost volumes in the token.
Robinhood had listed MATIC on its platform back in April with SHIB, COMP, and others. However, the platform limited MATIC transactions to the Ethereum network. Polygon noted the development on its website. 
The move is set to bring all of the benefits of Ethereum's Layer-2 (L2) solutions to Robinhood users for the first time, including faster transactions and lower fees as compared to Ethereum. Robinhood has over 20 million monthly active users and the popularity of the coin could see new investors emerge.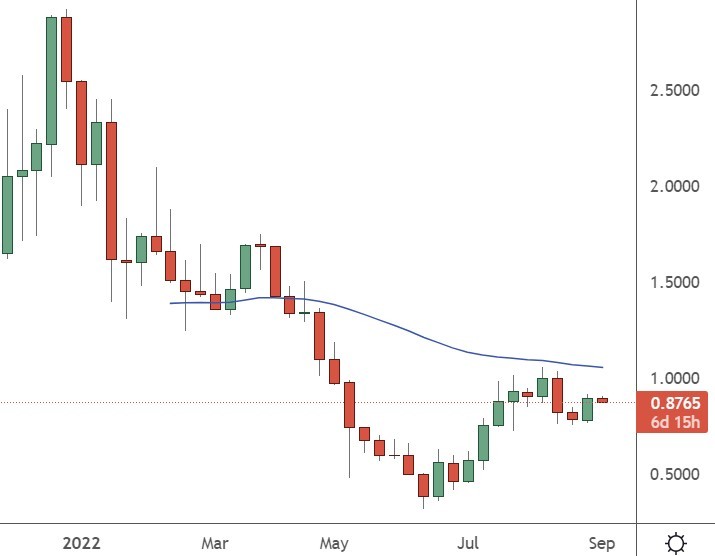 MATIC trades at $0.87 after a recent test of $1.00, and another push to that level could see a breakout higher.
ERG
A recent Twitter poll by node operator Cryptovium has shown that most Ethereum miners intend to mine Ergo tokens after the Merge.
"With the imminent PoS ETH merge, I'm curious what all the #miners out there are planning on moving their rigs to."
Ahead of the coming upgrade event, Analyst Miles Deutscher identified four issues that could affect the Merge: The possibility of delay, the ramifications of a PoW fork, the censorship resistance of the PoS chain, and the staking yield after merging.
The poll listed four options for miners: Ravencoin, FLUX, Ergo, and Ethereum Classic. From almost 5,000 participants, Ergo was the most popular choice, with almost half of the votes at 45.5%. FLUX was the next choice at 27.6%, followed by Ravencoin at 19%, and last was Ethereum Classic, which accounted for just 8%. That is a disappointment for ETC after a recent rally in hopes of new miner attention. RVN was higher again this week as miners still look to the coin as an option for new income. Ethereum co-founder Vitalik Buterin recently endorsed Ethereum Classic as the PoW chain miners should switch to.
Nonetheless, Ergo's lead over FLUX is a dominant one and the community was positive about the move:
It's a very welcoming community and I think they'll definitely welcome Proof of Work fans…If you like Proof of Work, you should go use Ethereum Classic. It's a totally fine chain.
One user questioned the poll's validity by asking if @cryptovium's follower base would act as an echo chamber and skew the results. @cryptovium conceded this might be the case. However, he pointed out that polls often draw in "other communities."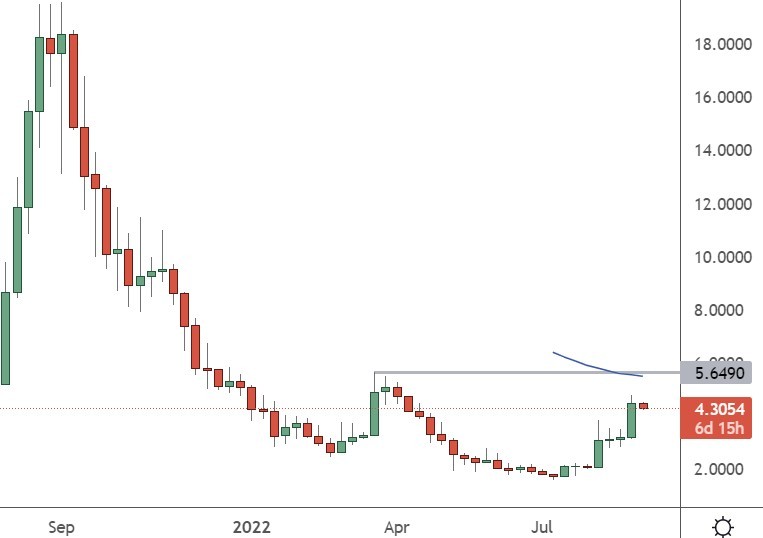 ERGO was trading at $4.30 after a recent rally and will look for further gains above the $5.60 resistance level.
Disclaimer: information contained herein is provided without considering your personal circumstances, therefore should not be construed as financial advice, investment recommendation or an offer of, or solicitation for, any transactions in cryptocurrencies.