NFT

---
Several Twitter users were left with a bad taste in their mouths after a tweet that has since gone viral showed a Greenwich Village restaurant, Dame, was offering $1,000 NFTs to join its "Affable Hospitality Club," allowing them to skip the line for a reservation.
"I will bravely say it: NYC restaurant reservation culture has gone too far," tweeted Maya Kosoff.
i will bravely say it: nyc restaurant reservation culture has gone too far pic.twitter.com/itj6zcmgJV

— maya kosoff (@mekosoff) August 29, 2022
Kosoff, a content strategist, writer, and editor, posted the review from The Infatuation, a New York-based restaurant recommendation website, showing the details of the membership offer.
Several of the responses took issue with the idea of buying an NFT to make a reservation for a restaurant that already takes reservations, also pointing out the ample dining options in the city. "Impressive to see a restaurant find a use of technology even worse than the QR code menu," wrote one user, prompting another to point out that QR code menus at least improve accessibility for some customers.
the desperate search for a legitimate use case for NFTs continues. in this edition it replaces the burden of rich people bribing the maitre d.

— therealseanharvey (@seanharvey1) August 29, 2022
Or I could just eat in Queens.

— EmadsWasHere (@EMadsWasHere) August 29, 2022
impressive to see a restaurant find a use of technology even worse than the QR code menu

— wyatt williams (@wyatt_williams) August 29, 2022
The resulting flap quickly earned coverage in The Daily Mail.
According to the Dame review in The Infatuation, getting a table at the restaurant can be challenging.
"Reservations are released online 12 weeks in advance at 12 pm, but Mondays are walk-in only," the post read. "If showing up on a Monday sounds too exhausting, you can also just buy an NFT that allows preferential booking (not kidding)."
The Dame website does not mention NFTs, but according to The Infatuation, a Dame Affable Hospitality Club NFT goes for $1,000 each and gives access to exclusive tables. Its review points readers to another website, Front of House, which gives more detail on the Fish-and-Chips-themed NFTs.
Non-fungible tokens or NFTs are cryptographically unique tokens linked to digital and sometimes physical content, providing proof of ownership. NFTs can also act as virtual membership cards to an online or offline community—like fans of a specific restaurant.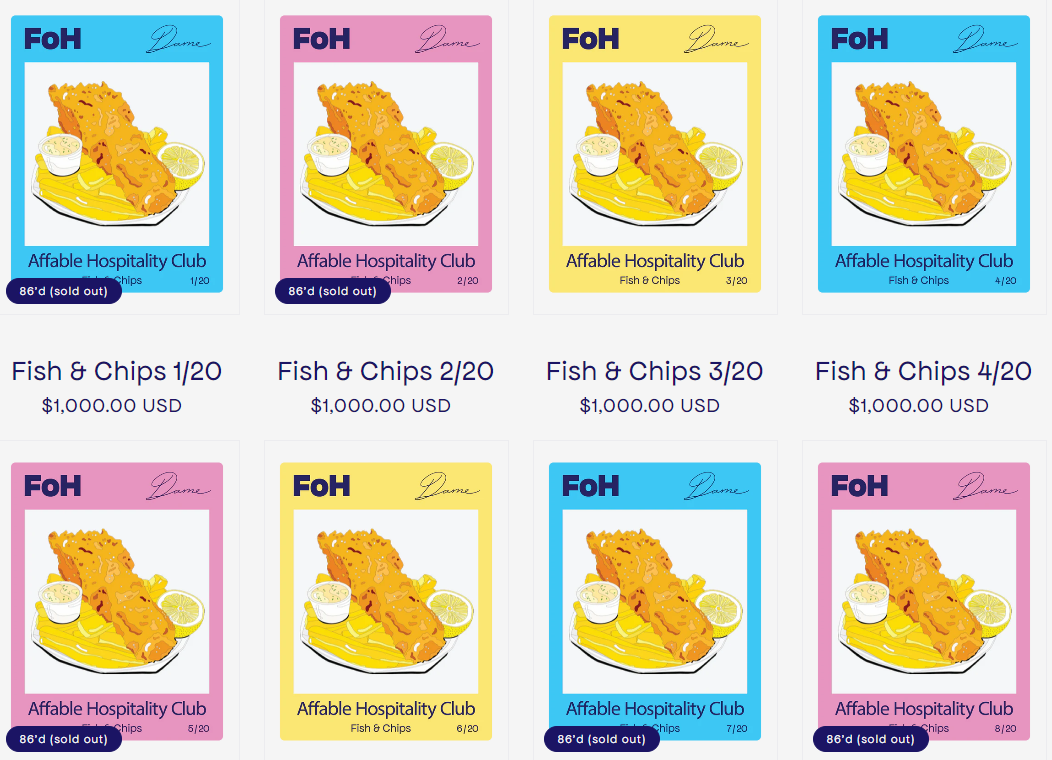 "Dame is offering the ability to join Affable Hospitality Club giving members access to reservations for parties of 2 and 4 through 2022!" the Front of House website reads. "Gain access to the hardest tables in NYC as well as other potential Dame & Front of House community benefits."
Other restaurants listed on Front of House include Hanoi House, Emmett's on Grove, and Wildair Donut Friends, each with a digital collectible that patrons can buy and view via a Metamask wallet, Coinbase Wallet, or any other wallet which supports Polygon and WalletConnect. The Dame NFT is far and away the most expensive.
Using NFTs for exclusive memberships is not new; several projects, including Bored Ape Yacht Club and VeeFriends, act as digital membership cards, giving holders access to exclusive perks and privileges.
In fact, in 2023, NFT champion Gary Vee is opening a new restaurant called Flyfish Club in New York as a member's only private dining club.
When Decrypt reached out to Dame to ask about NFTs and membership, the restaurant said simply, "no comment." For its part, Front of House did confirm that Dame is still a partner.
"Yes, Dame is involved and they receive a majority of the revenue from the sale," Front of House co-founder Phil Toronto told Decrypt. "It's their digital collectible that was created with us, Front of House, with the associated perks outlined on the site."
"Each of our partners works with us to create their collectibles ideally paired with in-person perks," Toronto continued. "Our mission is to drive additional revenue to restaurants while delivering unique experiences to holders."
As for the revenue share, Toronto told Saveur in July that the restaurant gets 80 percent of the revenue from the sale of each NFT, and 20 percent goes to Front of House—including NFTs traded on secondary markets.
---