The metaverse has become a major buzzword, and tokens backed by the metaverse have been getting a warm market reception.
Quilvius (QVIU) Token is a metaverse token exclusively designed for content creators. The benefits presented by its metaverse can be engaged by crypto and non-crypto natives. 
Other tokens in the same category as Quilvius (QVIU) Token riding on the metaverse to drive innovation in the market and potentially do 10x are Decentraland (MANA) and MOBOX (MOBOX). This article will explore the unique features of these tokens and how to maximize them.
Decentraland (MANA) – One Of The Original Metaverses
The Ethereum (ETH) network powers the Decentraland (MANA) metaverse, which enables the production of 3D virtual world experiences and contents that can be sold. LAND and MANA are the two most significant resources in Decentraland. 
In an NFT and 3D virtual environment, LAND is used to create or host programs within the metaverse and establish user identity. The native currency of Decentraland is called Decentraland (MANA) and is used to pay for platform transactions. 
The Consensus Layer, Real-time Layer, and Land content Layer make up the project's architectural framework. Users can get assets through some decentralized allocation mechanism with the help of the Land Content Layer. 
A basis for immersive metaverse experiences, including apps, 3D scenes, games, gambling, virtual branding, and the production of rare goods, is provided by Decentraland (MANA) and its ecosystem. However, given its extensive utility, traders and investors can do their due deligiey and acquire Decentraland (MANA).
MOBOX (MBOX) – Moving Into The GameFi World
MOBOX (MBOX) is a community-driven metaverse project that uses MBOX to reward players for their participation. It combines metaverse and games, as well as DeFi and NFTs, to create a play-to-earn environment. 
Yield Farming, MOMO NFT mining, Mystery Box, and Games are all ways for users to earn rewards. With three groups of rare MOMO, players mine to earn significant rewards. 
Renting MOMO, smelting equipment in Block Brawl, exchanging equipment, ranking prizes, and other options will be available to players. Rent for a rare MOMO is only roughly 1 BUSD per day.
In addition to Token Master, Block Brawl, and Tactical Party Slayer, all MOMO games, the MOBOX team wants to build more fun on the MOBOX platform using their experience in the sector. 
MOMO NFTs can be used in any game, varying applications depending on the game. MBOX is a BSC Bep20 token with a 1,000,000,000 total supply.
MBOX token Holders can vote, contribute to the PlatformPlatform, and make proposals for new games and events. Staking MBOX tokens creates a revenue stream for users and participants. 
Gamified Rewards are available to users. Using gamification tactics, the platform will reward stakeholders with MBOX in a sustaining system for community expansion.
Quilvius (QVIU) – Newcomer Ready to Rise Through the Ranks
Quilvius (QVIU) is a non-self profit project focused on cultural services. The project has a slogan, "The First Winning Culture Project" of the Metaverse, to capture that its goal is not for self-profit but to enable people to earn rewards. 
Quilvius (QVIU) aims for individuals participating in its community to profit from creativity, knowledge, and engagement. It will also build a platform where its authors can sell books and articles or write to earn a passive income. 
When other users on the platform or external users purchase, read, and talk about the content on the Quilvius (QVIU) platform, the author, the original creator of the content, receives a reward.  
The platform exists to lend readers a helping hand in reading a book at a cost-efficient rate where they won't have to go for pirated publications or have to drop out on the path of acquiring knowledge or education. 
Investors on the platform would surely benefit from user engagement and have the opportunity to contribute positively to eradicating the elitism behind expertise and culture. 
Quilvius (QVIU) is built on the Binance Smart Chain (BSC) network and is a Metaverse-compatible project. The universes in the Quilvius metaverse have features that distinguish one from another.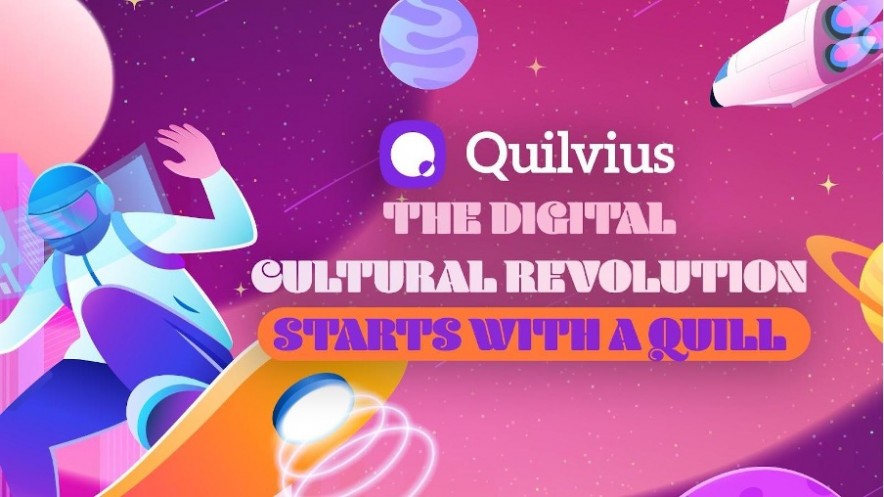 Benefits Available on Quilvius (QVIU) You Shouldn't Miss
Content collection: The content library on the metaverse contains an infinite number of content sources for readers.
Cost-efficient content: Low-cost content subscription with unlimited use.
Expand your audience: Millions of people can be reached by writers and content creators.
Promotional opportunities: Authors have the opportunity to promote their books.
Networking: Through this project, publishers will be able to connect with a large number of upcoming authors.
Instant access: Culture investors will immediately access the resources they require on the platform. The Quilvius (QVIU) Metaverse is simple to use, with a fast and secure data flow.
Crypto trading: The Binance Smart Chain architecture makes cryptocurrency trading simple and secure. 
How to Profit From Quilvius (QVIU) Metaverse

Quilvius Readers, Quilvius Authors, Quilvius Translators, and Quilvius Investors are the four universes in Quilvius (QVIU) Metaverse built to profit users from different categories. All transactions and activities on the Quilvius (QVIU) Metaverse would be settled using the Quilvius Token – QVIU. 
QVRead: The most crowded and intriguing universe is the Quilvius Read universe. Users who enjoy reading books will have unrestricted access to materials in this section. Additionally, they will gain access to all of the programs from this universe and the most popular TV shows, approved films, and series. All users will have access to this universe.
QVAuth: Quilvius Authors is a universe designed for writers and creators in the metaverse. There is a promotion opportunity for Authors and content producers where they can share their content with all users and investors. If the content meets the requirements, they will earn rewards from them.  
QVTrns: Translators have a place in the Quilvius Translators universe's metaverse. This universe is for anyone who does or offers translation services; they will have access to job openings and will respond to any opportunity that suits them from the universe. The flow of trade and exchanges of talent or skill for income in this universe will be incredible.
QVInvst: Quilvius Investor's universe may not be crowded like the Quilvius Readers universe but will have an important place in the metaverse. Potential investors in culture and art will meet in this universe, as well as those who seek to showcase their content to their potential audiences.
What is Quilvius Token (QVIU)?  
QVIU is a Bep-20 token released on the Binance Smart Chain with a maximum supply of 1,000,000,000 QVIU tokens. It is the utility token of the Quilvius ecosystem and will be used majorly for:
Rewards: PlatformPlatform will run a mechanism that will reimburse 3% of revenue from transactions to holders of QVIU. This mechanism will attract a passive income to the wallet of QVIU holders.

The Quilvius Token QVIU will be the native currency of the platform and will serve as the fuel of the ecosystem. Holders will use it to create,  claim, purchase, and sell the platform's NFTs (NFTQUILs). 
The token distribution:
Liquidity Pool 55% 
Burn When Launched 20%  
Marketing 20% 
Developer 4% 
Airdrop 1% 
The utilities attached to Quilvius (QVIU) are a smart market strategy, and from the roadmap, the team would keep pushing for events and activities that could enhance the token's value. To purchase Quilvius (QVIU), visit the platform's official site and participate in the presale. 
Quilvius (QVIU) and other metaverse tokens highlighted in this article have undeniable features that could set them at the top of the market. One of the ways to benefit from Quilvus (QVIU) is to become an early adopter by participating in the token presale.

Disclaimer: information contained herein is provided without considering your personal circumstances, therefore should not be construed as financial advice, investment recommendation or an offer of, or solicitation for, any transactions in cryptocurrencies.