NFT

---
Distributed Finance emerged from stealth this morning, announcing a $2.5 million seed round and the acquisition of Algorand NFT marketplace Rand Gallery.
The new venture aims to promote growth of non-fungible tokens (NFTs) and decentralized autonomous organizations (DAOs) in the Algorand ecosystem, according to a release on Tuesday.
A $2.5 million seed round
Leading the round for Distributed Finance is Borderless Capital, an investment firm which launched a $500 million fund focused on the Layer 1 ecosystem in November.
Other investors in the round include The Algorand Foundation, Eterna Capital, Big Brain Holdings and Fun Fair Ventures, per the release.
The founding team of Zest, a DAO management tool within Algorand, is responsible for creating Distributed Finance.Distributed Finance will now become the holding company for Zest, said Ross Murray-Jones, CEO of Zest, responding in writing to questions from The Block.
In recent months, Zest has been working on a for-profit DAO structure in the Cayman Islands. Institutional clients will have access to the Investment DAO LLC structure, enabling an unlimited amount of global members to access equity ownership in their DAOs, according to the release.
Zest's clients include Borderless Capital and Al Goanna.The fresh $2.5 million in funding will be put toward launching and scaling Zest; growing Rand Gallery and driving hiring, Murray-Jones said.
Acquiring Rand Gallery
Some of the seed funding also went toward the acquisition of Rand Galley, he added, but specifics of the deal were not disclosed.
Murray-Jones said Distributed Finance has been working on the deal for six weeks. It will enable the team to double down on Algorand, which is a proof-of-stake blockchain.
"NFTs and DAOs overlap, meaning Zest and Rand Gallery have much in common," Murray-Jones said. "Zest will use NFTs to access its DAOs, and Rand Gallery will introduce DAO products into its marketplace. For example, we recognise a tool like PartyBid is operationally efficient but would work much better integrated directly into a marketplace."
Mergers and acquisitions are on pace for a record year, according to a report from The Block Research.
However, several high-profile M&A deals have fallen apart in recent weeks, such as investment firm Galaxy Digital's acquisition of crypto custodian BitGo and crypto miner Prime Blockchain's merger with SPAC 10X Capital Venture Acquisition Corp II.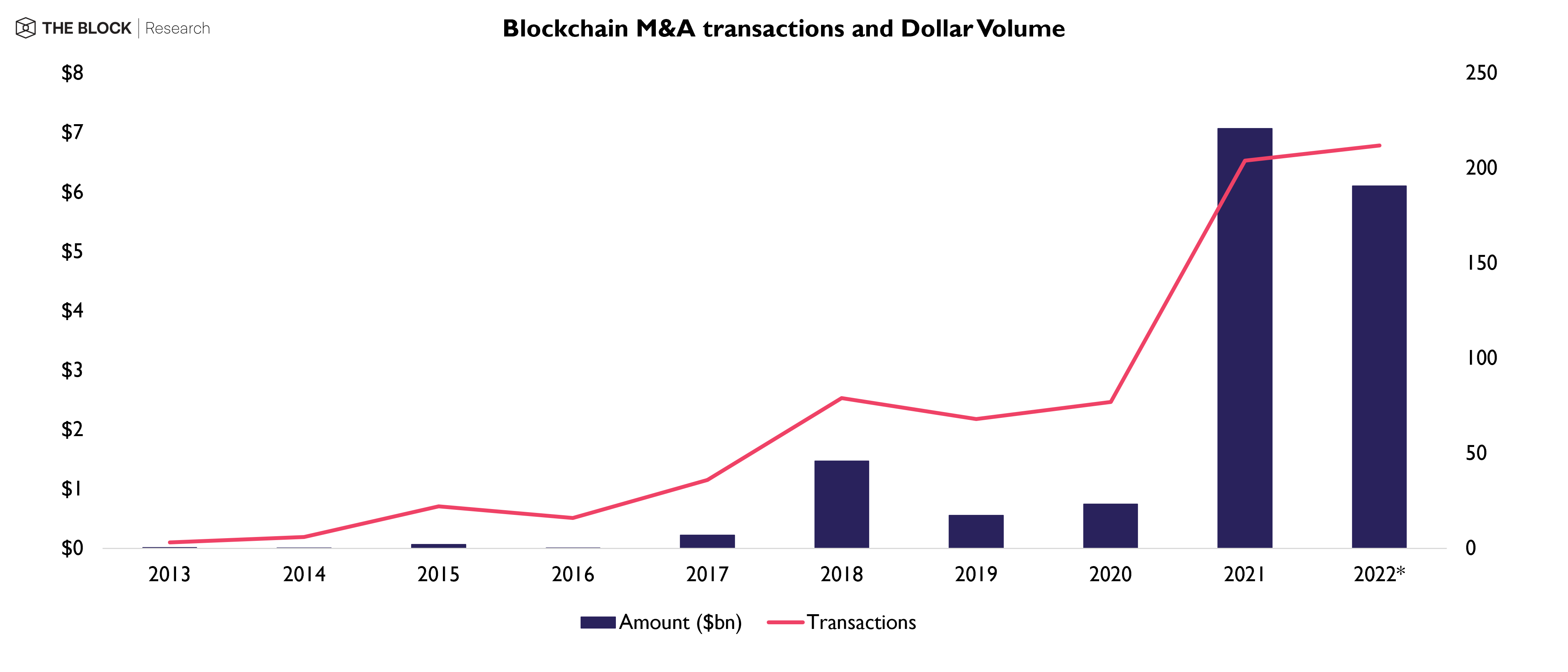 Chart: The Block Research
---