ETH price slumps 18% as market wobbles again. EOS and CHZ are rare gainers on the week. APE NFTs risk forced liquidation.
ETH
The Ethereum price was sharply lower last week with an 18% drop as inflationary fears resumed.
ETH was hovering above the $2,000 level as we started the week but was at $1,600 after another move lower. The decline in cryptocurrency markets started during overnight trading ahead on Thursday after higher-than-expected inflation data from Germany. The country's annual producer inflation figures rose to a record high of 37% in July, against expectations of 32%. 
This was alongside weak consumer sentiment figures in the UK, with inflation also at 40-year highs. With US inflation numbers hitting 9.8%, traders are fearing further interest rate hikes from central banks which could hurt the return on alternative investments such as altcoins.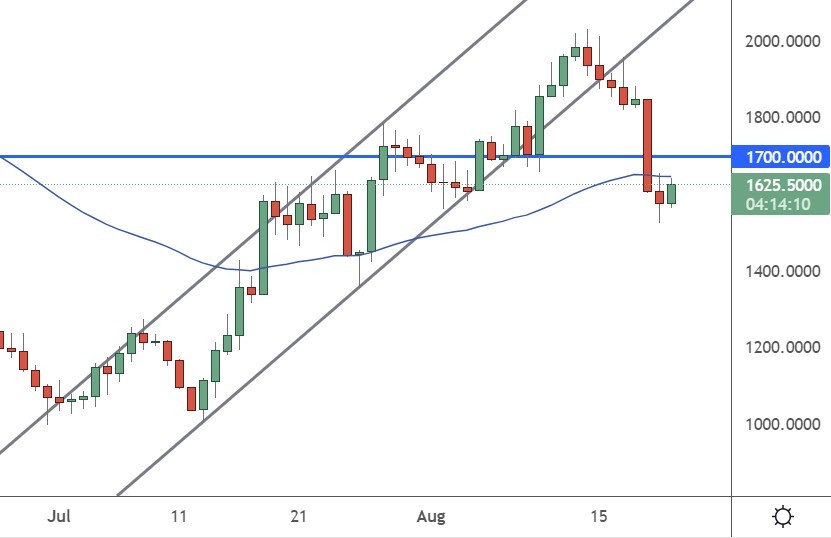 ETH will look to find support for a move back to $2,000 but the world's second-largest cryptocurrency has broken from its recent uptrend.
EOS
EOS was a welcome gainer in a red week for crypto markets with the coin jumping on a ruling from the Southern District of New York.
In May 2020, a group of investors sued the original creators of the EOS network, alleging that its initial coin offering was a security. That led to Block.one being forced to accept a settlement of $27.5 million with investors.
However, on August 15, New York, Judge Lewis Kaplan ruled that the lead plantiff in the class action, Crypto Assets Opportunity Fund LLC, did not represent the best interests of all investors.
There was also a boost for the coin on a potential hard fork. Yves La Rose, CEO of the EOS foundation had said that the EOSIO network was heading for a rebrand which could lead to an EOS hard fork. Data from DeFillama showed that the coin saw a rise in the Total Value Locked (TVL) by almost 16% to $136.8 million.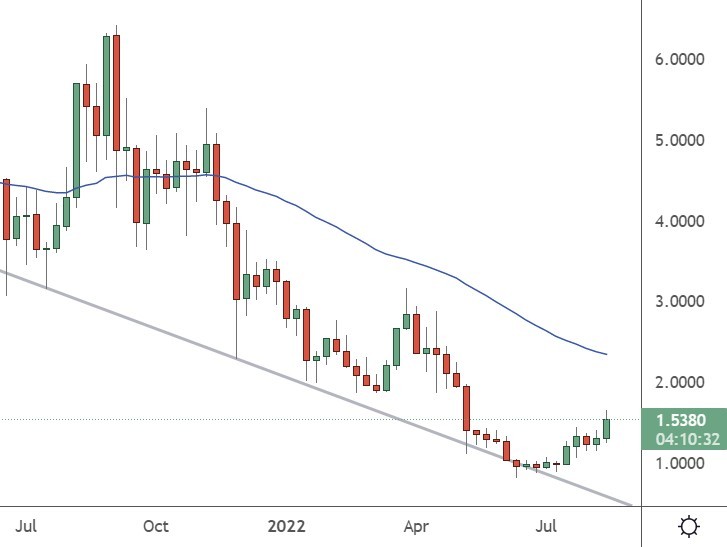 On the weekly chart, we can see a potential for the EOS coin but that will depend on the overall mood in the crypto market.
CHZ
Chilliz was another gainer this week after the Socios platform achieved regulatory support in Italy.
Fan token platform Socios.com on Thursday said it has gained regulatory approval in Italy as a service provider of virtual currencies and digital wallets. It will enable the firm to further boost its fan engagement and rewards platform in the key market.
The Socios.com platform said that it had received regulatory approval from Italy's financial regulator Organismo Agenti e Mediatori. That will allow Socios.com to provide virtual currencies and digital wallets for fan engagement and rewards.
The registration will also bring the launch of a new $ITA fan token for the Italian national football team. Socios already has tokens for the likes of club team AS Roma.
Alexandre Dreyfus, CEO of Socios.com, said the approval was 'critical' for consumer protection and building fan engagement.
We are committed to building lasting growth in the region and will continue working with regulators to guarantee legitimacy and trust for our Italian customers.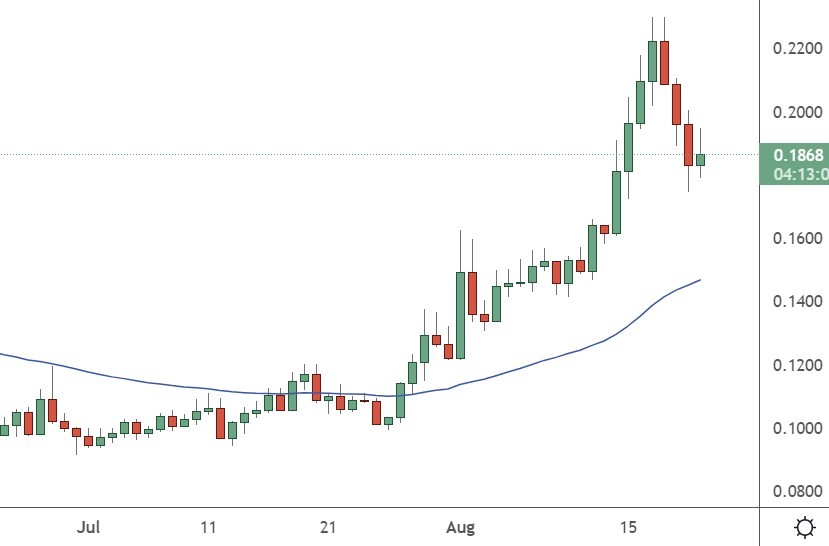 The Chilliz token has been on a steady uptrend over the last weeks as confidence grows in the platform.
APE
There was trouble brewing for the Bored Ape Yacht Club non-fungible tokens (NFT) which have been purchased with borrowed money and are close to forced liquidations.
The problem emerged at BendDAO, a peer-to-peer lending service that lets users borrow Ethereum against their NFTs. Customers can take out a loan of up to 30% to 40% of the NFT collection's floor price.
Floor prices have been falling in recent months due to the bearish mood in crypto markets. That has led to 45 of the 272 Bored Apes bought with BendDAO loans falling into the "danger zone," when an NFT used as collateral is close to being auctioned off. That means that around $5.3 million worth of Bored Apes is at risk of being liquidated. The 272 Bored Apes on BendDao is 2.7% of the entire collection. BendDAO said:
The short-term fluctuations in NFT floor price are normal. Consensus on blue chip NFTs wasn't built in a day, and it will not be collapsed in a short period of time.
Most Bored Ape holders at risk of being liquidated picked up their NFTs at a floor price of around 125 ETH. That has since dropped to 70 ETH with the bear market.
The US dollar has also been an issue where floor prices adjust as ETH's price fluctuates against the U.S. dollar. Despite an Ethereum rally from $1,000 to nearly $2,000 recently, lending services like BendDAO remain denominated in ETH, causing some of the Bored Apes to be liquidated at higher dollar prices than where they were purchased.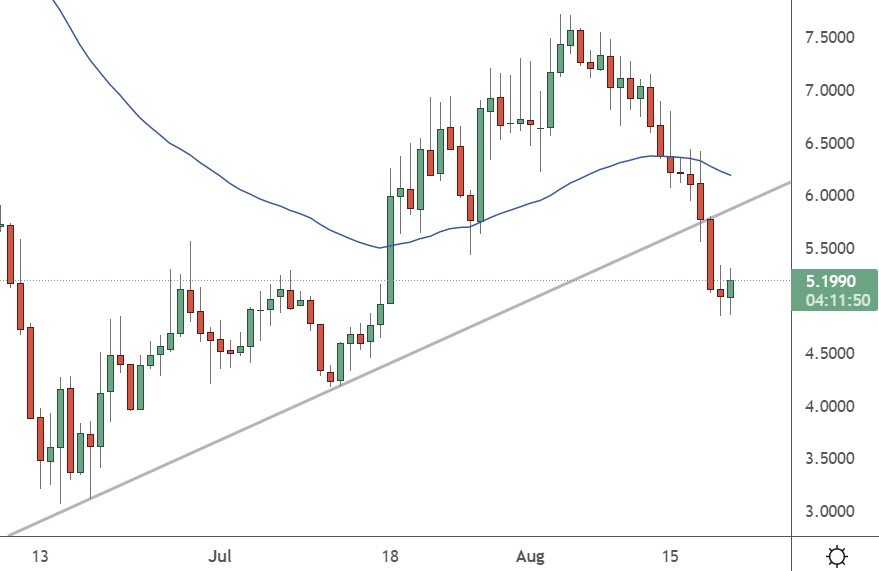 The price of APE coin has dropped to $5.20 this week after recently rebounding to test highs above the $7.50 mark.
Disclaimer: information contained herein is provided without considering your personal circumstances, therefore should not be construed as financial advice, investment recommendation or an offer of, or solicitation for, any transactions in cryptocurrencies.